If you love your current website, and just want to add quoting/booking to it, you can follow this guide. We can also build you a new fully-integrated website.
Add booking to a WordPress site:

1. Install the IO WP plugin
2. In WP, under the InflatableOffice > Setup, put in your IO username
3. Add a link to your website to the new /io_quoteform/ page
Add booking to non-WordPress site:
1. In IO go to Website > Checkout page and copy the link.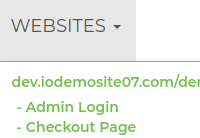 a. The link should be similar to this: https://rental.software/quotes/quoteme.php?name=XX...
b. if the link redirects to dev.rental.software/.... then the settings > wordpress temp site needs deleted or it's 'checkout setting' needs changed from Website to IO
2. Test it and make sure it looks and works the way you would like first. Go to Settings >Pages/Templates > Quote Request to customize it.
3. Add a link to your website to the page.