Creating a Packing List for Each Inventory Item
It can be embarrassing to you and your company to forget items for an event! That's why we have a packing list that can help prevent leaving behind items you need for your rentals! We make it simple to create a packing list of items that go with each rental item. This is found in Inventory --> select your inventory item --> Packing List.
For example, you may want to specify the number of sandbags or stakes to bring with a Bounce House. When editing an inventory item, click the Packing List in order to set the packing list for that item. You can even specify a different packing list depending on the surface type, that way you can bring stakes if the event is on grass and sandbags if the event is on concrete. As pictured below, this is a prime example of things you may want to bring for all surfaces.

You can select each item per surface, simply by selecting the surface in your packing list. If no surface is selected, the item will add to all surfaces by default.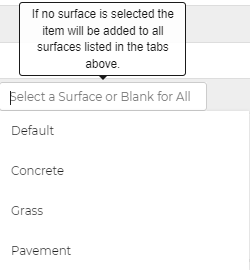 Here is an example of what it may look like with the items you may need per surface. This is an example of a concrete surface.