Under Delivery Methods, you can create new methods to handle deliveries and pickups for your customers. Here are some options for the delivery methods:

Below is an example of a Drop-Off delivery method:
---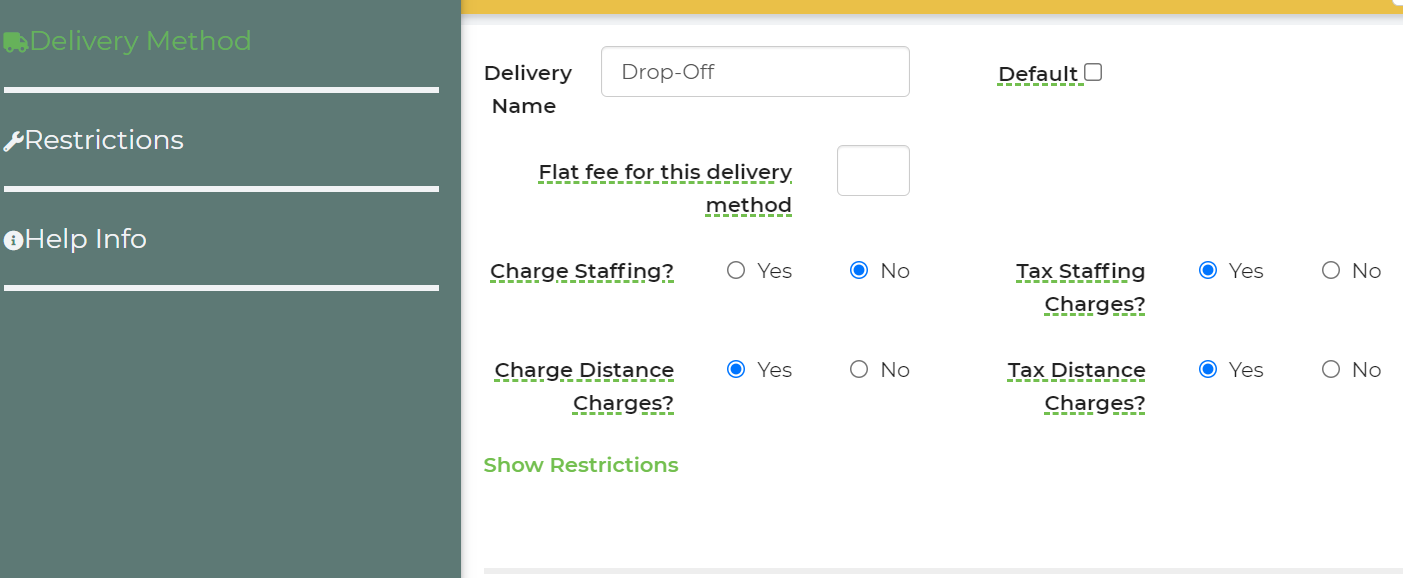 You can set certain Delivery Methods to allow auto-booking and others to not allow it. You can have your staffed Delivery Methods include the staffing cost and you can set it to tax the staffing cost or not. You can also set up specific delivery fees, and you can exclude rentals from being quoted or booked depending all on the Delivery Method you set up.
Delivery Methods are a way to distinguish between various types of events and whether or not to charge for certain things (such as staff/attendants or distance charges). The 3 most common are "Fully Staffed", "Drop off", and "Customer Pickup." However, there are many smaller settings in delivery methods which may make it useful to add in more Delivery Methods.
---
Restrictions on different Delivery Methods
You can set up certain restrictions for different Delivery Methods. For example, you can set default start and end time and decide whether or not the customer can change these. If you have multiple quote forms, you can exclude Delivery Methods from certain forms so that the customer cannot choose this Delivery Method. You can also list specific items that you do not allow for a Delivery Method.

---
Pick-Up
You typically would not charge a customer additional fees a for a pick-up. Thus, leaving you the option to not charge the customer when they have selected their delivery method as a Pick-Up. To not charge your customers for pick-ups, select "No" for the "Charge Staffing?" (to attend and/or staff an event) and "No" for "Charge Distance Charges?" options. Different laws for different states may prohibit your customers from picking up certain inventory items, for liability purposes.