The Worker Site allows worker to clock-in and out for their scheduled or nonscheduled shifts. Shifts that are near the current time are shown so that the worker can select what shift they are clocking in for. They can also enter a reason or related note. Once they are clocked in, they can either clock out or take a break. Breaks are currently unpaid only. For all actions, the workers geolocation is stored for later use. If the worker doesn't allow the geolocation to be attained, the clock in/out feature will not work. In order to locate this geolocation, go to your Payroll, select the timeframe, and search for the Google Maps icon. It looks like this: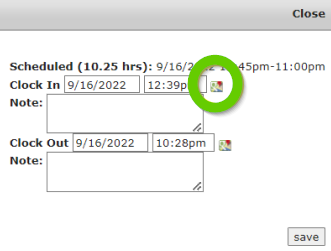 You can only find these in the hours section if highlighted green.
Selecting the geolocation from the Google Maps icon, it'll give you a generalized area in which the worker clocked in at.
Unscheduled shifts require the user to choose a position from the positions that they are eligible to work.

The Payroll Summary will use the clock in/out times less the break times instead of the scheduled times if available. The manager can adjust the times if needed to get the appropriate totals. It is possible to have multiple clock in/out and break in/out times for a shift. Unscheduled shifts can only have one clock in/out time but many break in/out times. To edit the times, click the total hours for the shift. The total hours are highlighted red if the clock in/out duration differs by 10% or more than the scheduled shift.