Choosing a Payment Merchant for Your Party Rental Company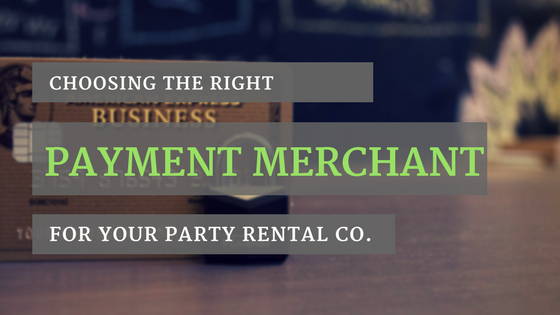 Growing your business means choosing the right software that allows you to scale. InflatableOffice is a great start, yet, you will need one more major tool to keep your sales flowing. This is your payment merchant, which allows you to securely take payments from your customers. Finding an option that works for your event rental business means investigating the compatibility, costs, and credibility of your potential choices. In the end, we've done a lot of the legwork in finding good options for you, so check out our Payment Options page and go from there.
Compatibility
If you are simplifying your business tools, you are most likely using an event rental software to manage your inventory, employees, and most importantly, customers. When choosing a payment processor, you want to make sure they are easily compatible with the current business tools you are using. With InflatableOffice, we can usually work with almost any payment processor, but we do have preferred partners including Global Payments, Paypal, and Square.
Find out how to partner with any payment processor
Another compatibility piece to consider is how it works with your customers. Look into the processor's details to make sure they accept multiple credit and debit cards from a variety of issuing banks.
Cost
Cost is an important factor to consider when choosing a payment processor since fees can cut into your budget. Going into detail there are several basic fees that come with each transaction. There's the interchange fee for accepting the transaction. The merchant fee, which your bank charges you, and the payment processing fee, which is charged with each transaction. There may also be monthly fees, set up fees, and others. Review carefully what the total package of fees will be, along with how you will be charged. You could be charged a flat-rate or a tiered price, which could be based on your volume of sales.
Credibility
Keeping your customer's information secure is key to earning their trust on your website. On the flip side, reducing payment fraud protects both your business and your customers. Look for payment tools that have multiple features to reduce fraud and keep information secure will be key to the longevity of your payment processor relationship.
We often recommend Global Payments to our customers, because they often process over $50,000 a year in credit card transactions and because it offers a lot of features due to their partnership practices with InflatableOffice. One of the major features is
Global Payments allows you to do refunds, recharges, automatic charges, and more directly through the InflatableOffice software.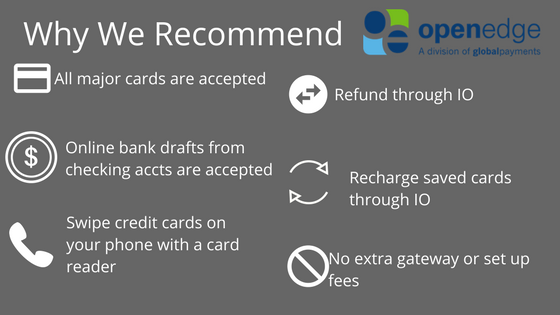 No matter what you choose, we recommend weighing all of your options. If you would like to see how
Global Payments can save you money and make the process easier, you can always submit a request now.