There are a couple different way you can access your Packing Lists. There are also two types of packing lists: The standard one is for viewing the packing list for one event, and the Vehicle Packing List will group multiple events together into one, grouped by scheduled vehicle. The events must be scheduled using the delivery tool first.
Print Packing Lists through Delivery Tab
The most common is through the Deliver Tab. Once you set up your Delivery Route and are ready to print...Press the print button and choose which items you would like to print:

Print multiple Packing Lists from Leads Page
Another way would be to print up directly from the leads page. Choose your filters and choose "Packing List" under the Reports drop-down box: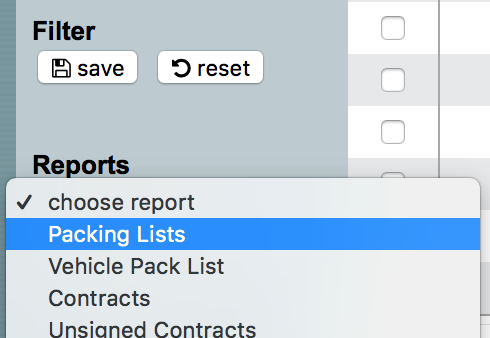 Print a Lead packing list
To print a leads packing list, click the lead and then click the Schedule tab. You will now see a printer icon with the words "packing list" near them. Use this button to view and print a packing list for this lead only.
Create the packing lists for each item
You can create a list of packing list items that go with each rental item. For example, you may want to specify the number of sandbags or stakes to bring with a Bounce House. When editing an item, click the Packing List & Optional Fields panel in order to set the packing list for that item. You can even specify a different packing list depending on the surface type, that way you can bring stakes if the event is on grass and sandbags if not.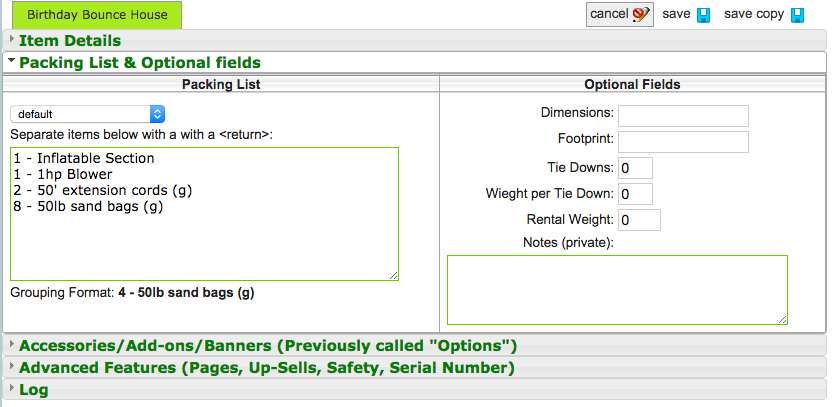 Customize a packing list
Under Settings-->Packing Lists Templates you can edit the information listed on your lists. Please contact us if you need help with this. If you need access to modify the Vehicle Packing List, you may need to contact us.