We give you the ability to blacklist/block customers that you do not want to service. You can blacklist/block customers to prevent them from booking an event. When you blacklist/block a customer, they will not be able to book online. Instead, they will get a "Request Submitted" message. They will show as a flag on the quote in the Leads page. Additionally, as an admin, you would get a message that you are working with a blacklisted/blocked customer, but you can proceed if you wish.
While we try our best to blacklist/block customers, it isn't always possible to match the incoming request with a blacklisted/blocked customer appropriately. Currently we check for a match on any of the following:
First and Last Name

Email

Home, Office, or Cell Phone
How to blacklist/block a customer:
First, you would have to go to your customers.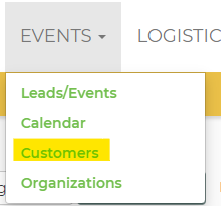 Once on the customers profile, select the option in the top right corner "Blacklisted"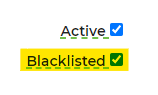 Once you have blacklisted/blocked the customer, you must save and close.
**Please note: You can unblock a customer at any given time by unselecting the box.