Expenses and Profits Topics
Expenses & Profits
InflatableOffice will give you an idea of your profit for each year as well as your profit per event, a break even date, and an idea of profit from your adwords related leads. Please keep in mind that these profit numbers are completely dependent on the accuracy of your expense entries.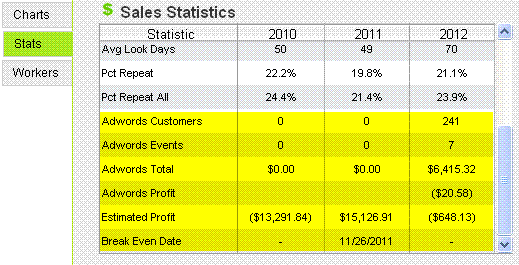 Sample data of what the system can calculate for your profit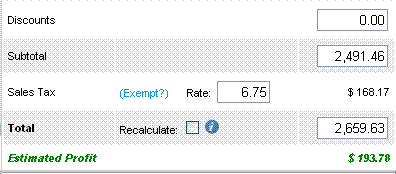 Estimated Profit will be attached to your leads once your expenses are entered
How Profits are Calculated
InflatableOffice does not calculate any profit related statistics unless you've entered expenses for that year. For years that have already passed, we use your reported expenses and your account sales to determine your profit. For the current year, we use your projected sales, fixed expense for the year, variable expenses to date, and an estimate of variable expenses for the remainder of the current year based on your previous year's data. As you update expenses for the current year, you will see your profit statistics adjust accordingly.
Profits are spread proportionally across your leads in contract, confirmed, and complete status. The same ratio is used to project your profits on quote and hold status leads. Because we proportionally distribute the profits, adding an additional item to a lead that shows $100 profit will not result in that profit going up by the amount of the additional item. Instead, you see it improve slightly, and if the status of the lead is contract, confirmed, or complete, your other leads in that status will also show an improvement in profit.
Fixed Expenses
When entering fixed expenses, we require that you enter the expenses a year at a time, meaning the period start must be on 1/1 and the end on 12/31. You should be able to project your fixed expenses fairly accurately and can always update the number as your accounting software provides. Fixed expenses are intended to be things that do not fluctuate based on your work load for the year.


Sample of how to enter the expense data
Variable Expenses
Variable expenses should always be entered for the entire year if the year is in the past. If you are entering variable expenses for the current year, you are required to start on 1/1. However, you may put any end date you would like. Usually you will enter the date that you calculated your variable expenses. The best way to calculate these is to look at the total expenses on your profit and loss statement from your accounting software, and then subtract your fixed expense for the year from your total expenses for the year.
Estimated Profit Results
InflatableOffice shows estimated profits on the Overview->Stats tab only for calendar years. It is entirely possible that your estimated profit reported by InflatableOffice is lower than that reported by your accounting software. If this happens, it is usually because you have additional income reported in your accounting software that is not contained in InflatableOffice.
In addition to your estimated profit, we also give you a break even date. The break event date is the date that if you took all of your income and put it toward your year's expenses, they would be paid off on that date. Every dollar brought in after that date is theoretically profit.
For customers using our Google tracking feature, you can also see your Adwords profit. This number is the amount of your Adwords sales that are estimated as profit using your InflatableOffice calculated profit ratio. If you have entered expenses, InflatableOffice will also show you an estimated profit per lead when viewing or editing a lead. Profits are not updated when editing a lead until you save the lead.