If you had a site built before 10/23/2019 and would like the latest shopping cart, please follow these instructions:
Warning: This will override any custom work that may have been done to your IO generated pages.
If you'd prefer to hire us to do this upgrade for you, we charge $95/hour. Assuming no issues or requests, this process will take 1 hour.
Step 1. Create a backup of your wordpress website if you don't already have one. If IO is hosting your site on siteground, then we already have a back-up, otherwise try UpdraftPlus plugin.
Step 2. In WordPress, click InflatableOffice -> Shortcodes


Step 3. For each one listed, click it, mark 'keep this shortcode updated' and then hit update

Step 4. Update both the IO plugin (v4) and the IO-Kenos theme (v2). If you are using a different theme the upgrade should still work fine.
Step 5. In InflatableOffice, go to Wordpress and click the blue arrow to Sync All pages to the site.
Step 6. When complete, take a look at your website and make sure everything looks okay.
Step 7. (optional) If you want breadcrumbs
7a. Install Yoast SEO plug-in
7b. Click on SEO -> Search Appearance, then click Breadcrumbs tab and mark Enabled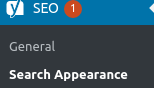 Step 8. (optional) If using an Elementor theme and you want to change the colors and styles:
8a. Under Pages, edit your home page
8b. click edit with elementor
8c. click the menu at the top-left
8d. adjust the Default Colors.
Step 9: (optional) If some of the button icons aren't working right
9a. Under Elementor -> Tools
9b. Click Font Awesome Upgrade tab
Step 10: (optional) If styles look bad compared to our demorentals.com example, you may have custom CSS that needs adjusted
10a. In Wordpress, under Appearance -> Customize
10b. Click Additional CSS. Copy what is in there to a file on your computer for backup.
10c. Delete content and click Publish. Depending on your site, some of the code may or may not need to be put back if it still looks bad.