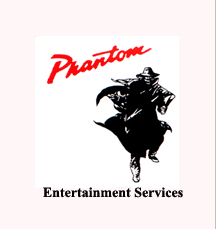 Phantom Entertainment Services
http://www.djphantom.com

1-800-357-4268.
Thank you for your interest in a Casino Party.
Please feel free to call us Monday through Friday, 9am to 5pm at 717-258-4401 to speak with a "live" sales person for an immediate quote.
We have provided casinos for parties as small as 15 people to casino events as large as 700 people. Our goal in providing a casino at your event is to give you and your guests the feeling of being at a real casino.
Our professionally dressed dealers are friendly and knowledgeable and ready to help teach the games to your guests. We always receive compliments regarding our dealers.We provide the complete tables with all the accessories and real playing chips for the number of tables that you have selected.
Below are tables that you can select for your event. Depending on your event date, we may have a minimum number of tables may be required for us to provide services.
To determine the number of tables, we suggest that you have enough tables for between 50% to 75% of the total number of guests able to play at any one time. The blackjack tables handle 7 people. The Texas Hold'em tables handle 9 people. The Roulette, Money Wheel, and Craps are standing games and can handle 10+ people gathered around at one time.
We also can provide slot machines. We have a standard slot machine package with 6 slots machines with attendant.
Video Horse Racing is available. It includes large projection Screen, sound system, Horse Race booklets, and betting slips. A new race is started approximately every ½ hour. Video Horse racing works best as part of a total casino.
For your event, we can create a custom $2500 bill that would have your picture or your company logo in place of a president's face. You would hand this bill out to all your guests. When they are ready to gamble, they simply take this bill up to any casino table and cash it in for the actual, real casino chips that are used for play at all the tables. Once again, this gives your guests the feeling of being at a real casino with Big Bucks to spend!
After you press the "Get a Quote" button below, it may return you to your contact information. Don't worry, that is ok. We usually respond to quote requests in less than 24 hours.